[Watch] Aaron Paul before he was famous on The Price is Right!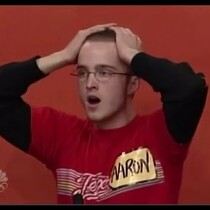 Posted February 20th, 2014 @ 6:12am
Long before Aaron Paul became famous as Jesse Pinkman on Breaking Bad, he was a contestant on The Price is Right in 2000…and he was very excited. Aaron says, "It looks like I'm on some serious crack. I downed about six cans of red bull because I knew they wanted people with energy. It worked, but I could not sit still." He said, "I bid on a Camaro and some other prizes, and was $132 over."