Let's Talk About McDonald's Fries
For most, it's not a trip to McDonald's if you don't order french fries. They know how to make those crispy, greasy, salted snacks better than most places and these #fryfacts will help you know why.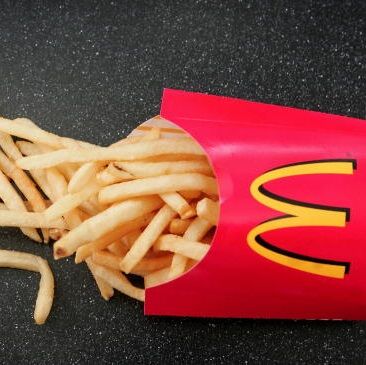 It takes A LOT of ingredients to make them - You'd think they would just be made of potatoes, salt, and oil, but you'd be wrong. Mickey D's fries have lots of ingredients, some report as many as 19. You can see a breakdown of the long list on McDonald's website and the purpose each ingredient serves.
They're not exactly vegan-friendly - Vegans can't eat much at McDonald's, but if you thought the fries would be safe, think again. They add a "natural beef flavor" that the company claims contributes to "that World Famous Fry taste," which is fine, if your diet includes animal products.
A variety of taters are used - McDonald's uses a range of potato varieties known for "producing a flavorful fry that's crispy on the outside and fluffy on the inside."
The calorie count is a littttttle scary - We're talking 340 calories in a medium, and they're just a side.
You can get them for FREE right now - Download the McDonald's App on your phone to get a free medium fry when you spend at least $1 every Friday through the end of the year.
Salt-free fry orders are a PAIN - As in the "fry person" has to wipe down the fry station, the fry scoop, and then clear an area for the new batch so salt doesn't contaminate the new batch, a former employee reveals. So if you want fresh fries, just ask. Don't be that person who pretends they need no salt and makes the "fry person" have to go through all that.

Mike Salois
Want to know more about Mike Salois? Get his official bio, social pages & articles on KIX 100.9!
Read more